...I recently finished reading the book "
Hidden Under Her Heart
" by
Rachelle Ayala
. It was a roller coaster of emotions not just for the characters but for me, the reader, as well! This was one of those books that I would stay up way past bedtime to keep reading and then I'd hurry through everything in the evening so I could get back to the book.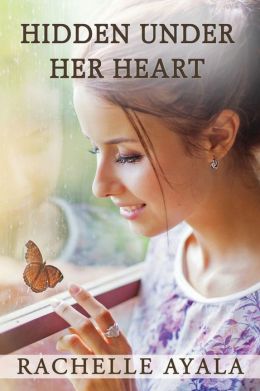 Summary:
"Maryanne Torres is a compassionate nurse who fails at relationships. After a string of losers, she swears off premarital sex, hoping to land a marrying type of man.
Lucas Knight, a law-school dropout, moves to California to train for the Ironman Triathlon. He's smart, sweet, and everything Maryanne wants in a man, but their relationship suffers from his dedication to the sport. Seeking consolation in the arms of a handsome preacher's son, Maryanne attends a church party where she is raped.
Maryanne is pregnant from the rape and plans to abort. But the identity of her rapist is hidden in her baby's DNA. Lucas asks Maryanne to seek alternatives and pledges to support her through the pregnancy. When Lucas becomes the prime suspect, Maryanne must clear his name and make a life changing decision.
The rapist has other ideas. In order to destroy the evidence, he offers Maryanne an illegal offshore abortion. With Maryanne's life in danger, Lucas races to save her and her baby. However, Maryanne hides a secret that threatens to tear them apart forever."
Review:
As you can tell from the summary, there's lot of drama built into the storyline.
Rachelle
did an excellent job of making me feel as the reader. At times, I loved Lucas then I wanted to punch him in the face. Maryanne, oh Maryanne, she was full of so much guilt that she couldn't even think straight.
When Maryanne and Lucas were together, all was right but when they were fighting or broken up, it was no good. I wanted to scream at them to stop fighting it, they both loved each other and needed to be happy about it.
Immediately after Maryanne's rape, she has to decide whether to keep or abort the baby. It's a decision that may come easily to some but can be gut wrenching to others. I was on the edge of my seat waiting for her to decide.
I feel like the primary conflict in the book was about Maryanne and the baby yet the main focus of the book was Maryanne and Lucus' relationship. The entire story was building up to the paternity of the baby to figure out who had violated Maryanne and in the last few chapters, I feel like it was swept under the rug and only addressed with a couple paragraphs. Still it was a nail-biter that I would recommend for those who can handle the suspense!
I also totally love the title of the book as the meaning comes full circle in the last few chapters.
I received one or more of the products mentioned above for free using
Tomoson.com
. Regardless, I only recommend products or services I use personally and believe will be good for my readers.